There's a direct connection between payroll reliability and employee productivity.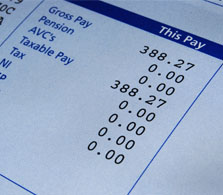 To help you manage your workforce efficiently, Atlantico's Payroll Affiliate handles details such as reporting, compliance, POS integration and Workers' Compensation — all with the pricing you need and the services your business and your employees demand.
Count on our Affiliate to deliver:
• Comprehensive, customizable payroll capabilities
• Payroll automation that frees you to concentrate on your core business
• Web-hosted access to your payroll anytime via SSL-encrypted and secure
internet technology
• Online access so your employees can view their pay stubs
• Robust reporting for better business analysis
• No fees for deletions or additions of employees
• Remote check and report printing at your convenience
• Tax specialists on staff who ensure processing and filing compliance of your
payroll-related taxes
• An automated general ledger interface that electronically imports payroll information directly into your accounting application – and provides free data access to your accountant
• Dedicated, skilled account representatives for speedy response to inquiries and extended, US-based customer service hours

Atlantico looks forward to discussing these services, please Contact Us.