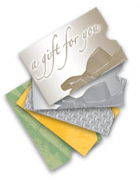 In many stores across the country, gift cards have virtually eliminated the time consuming paper chase involved with traditional gift certificates. Unlike most gift certificates, gift cards can easily be carried in wallets, are simple to use and can be swiped through many common credit card processing terminals.
Atlantico's Business Gift Marketing affiliate can help you turn business gift cards into powerful marketing tools that increase revenue, promote your business and expand your client base through innovative and proven techniques. Our gift card marketing programs are flexible and easy to implement so you can start providing these value-added offerings quickly.
What Are Gift, Loyalty and Stored Value Cards?

Gift Cards
Gift cards replace paper gift certificates. This plastic card is designed specifically for businesses using customized logos and designs. The "gift value" amount is loaded and generally stored on the host database by swiping a magnetic stripe card through an existing POS terminal. Most cards may be used multiple times and are reloadable by the consumer.

Loyalty Cards
Similar to Gift Cards, Loyalty Cards are used by their businesses to track customer information and reward their loyal customers. The tracking criteria can include number of store visits, purchase amounts, purchase dates, or other measurable marketing factors. Loyalty cards provide merchants with an effective marketing tool for increasing store traffic, sales, and ultimately, customer loyalty. Additionally, the features available with the Loyalty Cards can be combined with those available with the Gift Card or Stored Value Cards, all on the same card.

Stored Value Cards
Stored Value Cards are also similar to Gift Cards with one difference. With Stored Value Cards, customers purchase value today that will be redeemed at a future date, usually as part of a marketing or rewards program. In this way, customer loyalty is increased because a need is created for future and/or multiple store visits to use the Stored Value Card.
Benefits
Our affiliate's Business Gift Marketing program offers you and your business numerous benefits including:

Increased customer traffic and sales by marketing your name and logo on the card


Increased customer traffic and sales by enabling you to load all refunds and incentives on the card instead of offering cash back


Increased customer base since cards are generally given to others as a gift


Secure setup and fund transfer that prevents fraud associated with paper gift certificates


Reduced overall cost by enabling you to reload dollar amount on a single card versus issuing a new card


Increased customer loyalty by providing an incentive for customers to return to your business


Increased customer visits back to the store to use remaining amount of gift card which increases sales


Detailed reporting saves you time and hassle in the reconciliation process
Increased employee satisfaction and willingness to promote gift cards because transactions process like credit cards


Increased sales due to the customer demographics information that can be obtained from the program

Atlantico looks forward to discussing these services, please Contact Us.