Improve your cash flow and efficiency while handling all of your check needs.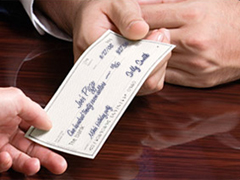 A proven time saver, out Affiliate's Check Management system efficiently handles check deposits through recovery and collection. You'll be able to:
•Scan and deposit checks at your convenience with our Express Funds product
•Improve your cash flow by having funds credited to your account as soon as the next weekday morning
•Initiate check recovery activities automatically with our Auto Recovery product
•Recover bad check funds efficiently with our Stop Loss product
•Track the entire check-clearing process - from remote deposit capture through returns processing and the collection of bounced checks - through a single web portal
• Retain employees on-site to serve your customers and focus on your business
• Operate efficiently through seamless integration with most existing accounting software packages
• Start up easily with set-up that includes complete installation, training and post-installation service whenever needed
• Reduce keystroke errors through automation
• Receive automatic alerts that identify duplicate, damaged or invalid checks

Atlantico looks forward to discussing these services, please Contact Us.